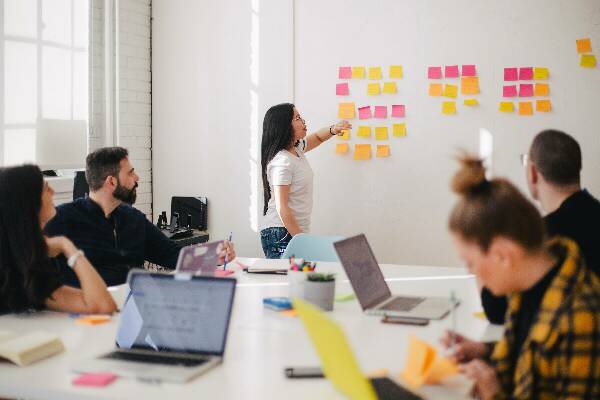 UX design process in 6 stages
Following the UX design process doesn't just give users an intuitive and pleasurable experience - it poses an opportunity for designers to iterate and improve their designs.
All blog posts
Go back
The first step to designing an interface your users will love is knowing exactly what that process entails.
Let's take a look at the meaning of UX, how to break down the design process, and how you can apply this method to your next project. First in fun video form, and then in more detail below.
What is UX design?
To understand UX design process, we have to break down the phrase.
"UX", or "user experience", is how a user feels when they use a specific product or service. It encompasses a variety of feelings including emotion, senses, and physical interaction.
The term was coined by Donald Norman, Apple's former vice president of the company's Advanced Technology Group, who said:
"I invented the term because I thought human interface and usability were too narrow. I wanted to cover all aspects of the person's experience with the system including industrial design, graphics, the interface, the physical interaction, and the manual."
UX design, then, is the system designers create for that experience with the goal of having the user's experience be satisfying and easy.
And while it is involved in a lot of different products and services, it typically refers to the digital design experience.
Why is UX design important?
Good UX design creates a positive experience for your user by anticipating—and fulfilling—their needs.
TIPS

Try Freehand, the fast, flexible new way to collaborate in real time. Any successful product or service, such as a website or app, needs good UX design. With it, customers will remain satisfied and (ideally) loyal to your business. Without it, your user can be left frustrated and bitter with your product…resulting in, ultimately, fewer users.



And what that UX design actually looks like is going to differ from product to product and brand to brand. That means Apple's UX design is going to be much different than Google's—so don't worry about what the other team is doing.

With that, let's take a look at the UX process itself.
The UX design process in 6 stages
Remember, your business's UX design process is going to differ from other businesses.
That means you might stray from the stages we outline below and that's okay! What's important is that you find out exactly what works for your company.
That means researching, iterating, and testing (aka everything you need in a good design process).
Let's jump in.